a series of eleven vases decorated with unique textures
Chinese artist Yang Jiechang presents his new unconventional work of art at the Galerie de Sèvres in Paris. entitled 'Tale of the 11th Day', the exhibition features a series of eleven embossed vases clad in a pastel color palette representing paradisiacal landscapes. his overall work follows the pâte-sur-pâte (paste-on-pasta) technique — an easy-relief decorating process made with liquid porcelain paste spread with a brush while the vase is still raw — adding a unique texture to the pieces.
the vases are decorated with the artist's drawings depicting the dominance of nature, released for rules and boundaries. in this context, the artist imagines the narrative of the eleventh day, when humans and animals coexist, communicate and mate. 'play with each other or make love with each other and it all works in harmony and love' as he described in the video.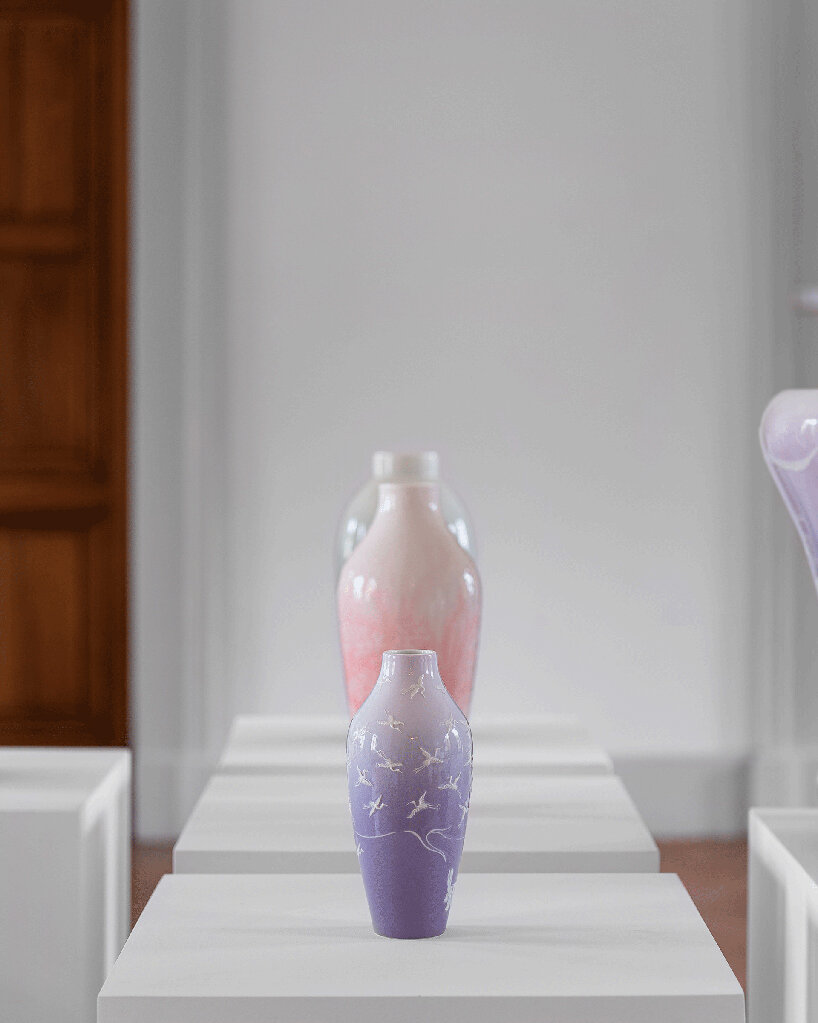 all photos lent by gregory copitet © jeanne bucher jaeger
the superiority of nature devoid of laws
yang jiechang learned about this method of decoration in China, and he moved his interest even more into this process, visiting the manufacture and museum of sèvres. this technique appeared in sèvres in 1849 and had almost disappeared in the early 20th century. however, the artist and the museum's artisans came together to revive this unusual and demanding technique.
christened 'The Tale of the 11th Day', it refers to the 'decameron' (based on the Greek 'ten-day work') written by Giovanni Boccaccio. in this narrative, the artist emphasizes the superiority of nature over the laws of civilized society and religion, imagining an idyllic atmosphere for all beings, immersed in subtle muted colors.